Many enjoy the warmth, Vikings prefer the coolth
---
Clay Shirky describes the over-reaching potential of SOPA, bringing in historical precedence from old media companies - the proponents
via boingboing
Our daughter, Nadia Catherine Christine Bjarnason was born Saturday, Oct 22 by emergency c-section. She was 2 lbs 15 oz and was 41 cm long. It was a wild ride documented on Twitter @thoriscoolth. It was the scariest day of my life.
TVO's Search Engine interview of Heritage Minister James Moore by Jesse Brown. Finally, a minister discusses the upcoming copyright legislation. Listen to it on the Search Engine Blog.
The new copyright bill has what some call a 'book burning provision', because the word 'destroy' shows up a lot. For instance, students will be expected to destroy copyright material used in an educational setting after the class is over. Fat chance using these documents the following year for an honours thesis project without being a criminal.
Bill C-11 is almost surely going to be a reality. Canada fails.
"If you're a student, or if you consume a lot of music, movies and TV, or if you do fun stuff on the Internet, there's a rather good chance the Conservatives' Copyright Reform Bill will make you a criminal.

How? In plenty of ways. Here are a few: ..."
A really neat historical video of riding a streetcar in Vancouver in 1907. Maybe you can recognize some landmarks!
A nice NY times artilce describing how companies like facebook capitalize on how we undervalue privacy.
'Tech companies often do not offer clear or easy privacy choices to users. Facebook constantly changes its privacy settings to push the default towards more public data ... "Complexifying a proposition is usually there to stop you from finding out whether the deal is good,"... '
I recently published an article in the IEEE-Potentials Magazine describing how I performed and managed my PhD research literature review digitally.
Abstract: Digital documents provide too many benefits to turn back now. With hand-held devices becoming more powerful all the time, literature reviews of the future will be earned around in your pocket, "with multiple copies synchronized and easily backed up anywhere. The literature review has become paper less, replacing paper documents with pdf files, filing cabinets with reference managers, and notebooks with tagclouds. The literature review is now paperless, portable, browsable, and searchable.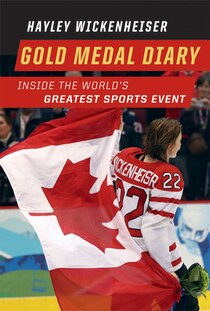 Hayley Wickenheiser (@wick_22) is one of my favorite athletes; one of my heroes. A wonderful representative of Saskatchewan recently named an Officer of the Order of Canada.
My brother-in-law gave me her book: Gold Medal Diary - Inside the world's greatest sports event, and I really enjoyed reading it. The writing was a bit choppy, making the flow a bit hard when reading, but perhaps adding authenticity considering the diary was written by a jock, and not a novelist. A glimpse into Team Canada Women's Hockey Team training really showed how hard they worked for gold, and how a team at that level still has the same worries as any team in competition, always scared that everything could fall apart at any time.
A nice tribute to Jack from a former Tory.
I usually read Garth's blog to muse about real estate and investments, and was moved by these accolades.